Orthodontics – West Hartford, CT, Avon CT
Better Oral Health by Straightening Your Smile
For anyone struggling with crooked, gapped, or misaligned teeth, the drawbacks of a less-than-perfect smile and the potential for chronic jaw pain and worn-down tooth enamel are real. Fortunately, we offer orthodontic treatment in the form of Invisalign clear aligners, Six Month Smiles, and HealthyStart® for Kids. Call us today to find out if you or a loved one is a good candidate for orthodontics in West Hartford or Avon, and let us put your smile back on track for a brighter, healthier future.
Why Choose Blue Back Dental for Orthodontics?
Family-Friendly Practice Treating Children & Adults
Clear Aligners for More Subtle Orthodontic Care
We Welcome Your Dental Insurance
Invisalign Clear Aligners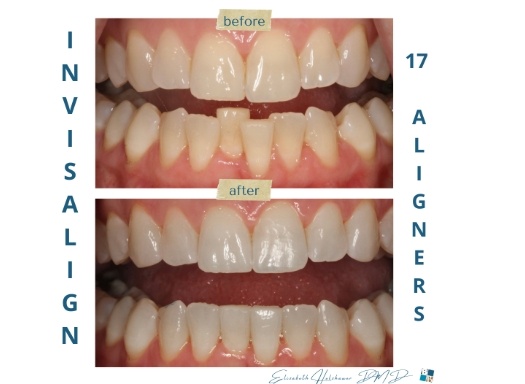 Instead of relying on traditional metal brackets and wires, Invisalign clear aligners allow for a more subtle and discreet method of orthodontic treatment. Made of clear plastic, these trays are custom-made to fit your smile and move with it as it shifts in the right direction. When worn 20-22 hours each day, you will notice dramatic results in less time than with regular braces. With Invisalign, you can have confidence during and after treatment as well as the assurance that your oral health is in a better position for the future.
Learn More About Invisalign Clear Aligners
Six Month Smiles
Focusing only on your most visible teeth (the front six on top), Six Month Smiles uses clear braces or aligners to deliver a straighter and more attractive smile in record time. Because fewer teeth are involved, they are able to shift faster than regular orthodontics without applying additional force. Either option is comfortable and nearly invisible, so your treatment will be discreet. Just like the name says, the average treatment time is just six months, though many patients get the results they desire before that.
HealthyStart® for Kids
For little ones who have difficulty breathing while asleep, it can be a challenging problem for both children and parents. This is why we recommend HealthyStart® for kids. This system helps to straighten your child's teeth and widen their upper airway using various appliances that are non-invasive and pain-free. By carefully guiding these young, developing teeth in the right direction without metal braces, Dr. Liz and Tim Holzhauer, who are certified in HealthyStart®, can help your child avoid the potential for costlier orthodontic treatment in the future as well as improve their sleep-breathing patterns at night.