Invisalign Clear Aligners – West Hartford, CT, Avon CT
All of the Benefits & None of the Drawbacks
Blue Back Dental is a proud Platinum Invisalign provider, serving our patients at both our West Hartford and Avon dental offices. Invisalign is the first and most effective clear aligner therapy used to straighten teeth and offers a comfortable, removable, and nearly invisible alternative to braces. Patients wear their Invisalign plastic aligners for 22 hours per day for one week at a time to gradually push the teeth into the proper position.
We offer a one-on-one orthodontics consultation to answer any questions you have about the Invisalign treatment. Each patient receives care tailored to their needs on a schedule they can follow easily from the comfort of their own home!
Why Choose Blue Back Dental for Invisalign Clear Aligners?
Certified Platinum Invisalign Provider
Designed Just For You
20+ Years of Satisfied Patients
Does Invisalign Really Work?
YES! Invisalign® 3D technology allows your doctor to plan the tooth movements that will occur while you wear the series of aligners to achieve the desired result. Invisalign's technology has improved over recent years to reduce treatment time and allow doctors to treat more complex cases.
Does Invisalign Treatment Hurt?
The pressure that is exerted on the teeth is gradual, so tooth soreness is minimal and usually only occurs on the first day of treatment. Invisalign is also much kinder to soft tissues since it doesn't have the brackets or wires needed for braces.
How Much Does Invisalign Treatment Cost?
Invisalign treatment cost is case-specific, depending on how many aligners you need to straighten your teeth, but an average case cost is around $5,000. Each Invisalign case at Blue Back Dental includes all orthodontic records ($400 value), and teeth whitening ($500 value).
Does Blue Back Dental Offer Financing for Invisalign Treatment?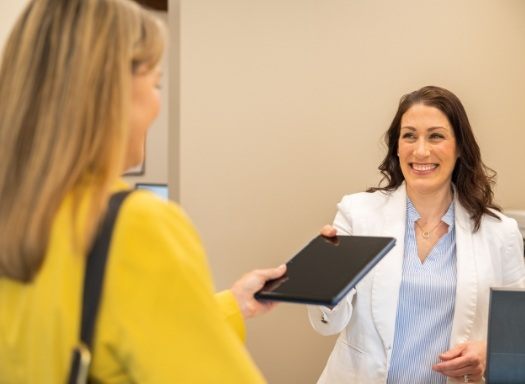 Our treatment plan coordinator will determine if you qualify for any insurance coverage. HSAs and FSAs can be used towards Invisalign treatment, and we also offer 0% financing options that allow you to spread payments out over 12, 18, or 24 months.
Invisalign FAQs
When patients call us or come in for their consultation, they have all kinds of questions for our West Hartford dental team about Invisalign. Will it affect my speech? How long will I have to wear the aligners? Is there anything I can't eat? So, we decided to answer some of the most-asked questions right here!
Does Invisalign Give You a Lisp?
No, Invisalign will not give you a lisp. Not convinced? Remember, more than 12 million patients wouldn't have chosen this innovative orthodontic treatment if it permanently altered their speech. Furthermore, the large majority of patients don't experience any changes to their speaking patterns at all! If you do experience a slight learning curve, don't worry – that will go away with a bit of practice.
How Long Does Invisalign Take?
The exact length of your treatment timeline will depend on a few key factors, including the complexity of your case, how long you wear each aligner, and how good you are about following all of the guidelines. With all of that said, the average Invisalign treatment is just 12-18 months, which is considerably shorter than traditional braces.
Does Invisalign Hurt?
Although Invisalign has a reputation for not being painful, it's completely normal to experience some soreness from time to time, particularly in the hours following the switch to a new aligner. Don't let that get you down though! You can easily alleviate any discomfort that does arise with a few simple steps, like sipping on cool water, sticking to soft foods, and taking OTC pain medication. Many patients find that switching to their new aligners right before bed is helpful as well so you can sleep through the majority of the soreness.
What Happens After Invisalign?
Once you've worked through your entire series of aligners and you're happy with your results, our focus will switch from straightening your teeth to maintaining their positions. After all, the last thing we want is for all of your hard work to go down the drain as your teeth begin to move back into their misaligned places (a phenomenon known as "orthodontic relapse"). For that reason, we will provide you with a custom-made retainer as well as detailed instructions on how often to wear it.
Can You Eat with Invisalign?
Good news: there aren't any dietary restrictions with Invisalign! We just ask that you do your best to avoid foods that can damage your teeth or cause an attachment to come loose, like peanut brittle, popcorn, and raw nuts.
Can You Drink Coffee with Invisalign?
Although you can't drink coffee with your aligners in, you can drink this delicious, caffeinated beverage alongside your breakfast or lunch! In other words, as long as you remove your trays carefully and store them properly, you can enjoy all of your favorite drinks. Just make sure to brush and floss your teeth thoroughly before putting your aligners back in.