Meet Our Dental Team – West Hartford, CT, Avon CT
Motivated, Skilled, & Eager to Serve
Like everything else, we've chosen to have a large team because it allows us to deliver the best service and care for our patients at Blue Back Dental. Whether you're talking to the front desk or working with an assistant or hygienist, you can trust that you have 100% of their attention and focus. They'll take the time to learn about your needs and strive to meet them without you even needing to ask. Before you meet our West Hartford and Avon dental team members in person, you can learn more about them below.
Front Office
Kirsten, Dental Practice Manager
As dental practice manager, Kirsten has worked at Blue Back Dental for well over a decade. Her start in dentistry, though, began much earlier – she began as a dental assistant before rising to her current role. Since taking up practice management, she's also earned a fellowship with the American Association of Dental Office Managers. Such achievements help Kirsten give Blue Back Dental an upscale feeling that inspires her work.
Originally from Plainville, CT, Kirsten is married to her husband Chuck, and together they share five amazing adult kids. Today, she enjoys outdoor-related hobbies – walking, running, being on the water, etc. However, she's also handy with home renovations in the right situations! Our doctors and team are very lucky to have an experienced and empathic office manager like Kirsten.
Jennifer, Front Desk Lead
Jennifer heads our office's front desk team. She's highly skilled – her prior patient coordinator experience and continuing education ensure as much. The result is that she happily works each day so patients receive optimal dental care in a positive environment.
Raised in nearby Newington, Jennifer currently lives with her husband and two children. She often joins them for family walks and summer evenings around the fire. Otherwise, her downtime hobbies include running, baking, reading, and traveling. When she gets the chance, she likes to plan parties as well! Jennifer is one of the Blue Back Dental "moms" who often brings in homemade treats or bagels for her beloved colleagues.
Cindy, Treatment Coordinator
Cindy is a dedicated treatment coordinator and her contributions to dentistry began over thirty years ago. Once she graduated from Asnuntuck Community College, she devoted herself to helping patients with treatment planning and financing. She continues to do so, as she wants to help patients navigate dental insurance and finance options for their recommended dental treatment.
A native of Enfield, Cindy now has two adult children and two grandchildren who live near her. She loves being with them, not to mention hiking in local parks and martial arts. Karate has been especially fruitful, as she's now a 2nd-degree black belt!
Julie, Patient Care Coordinator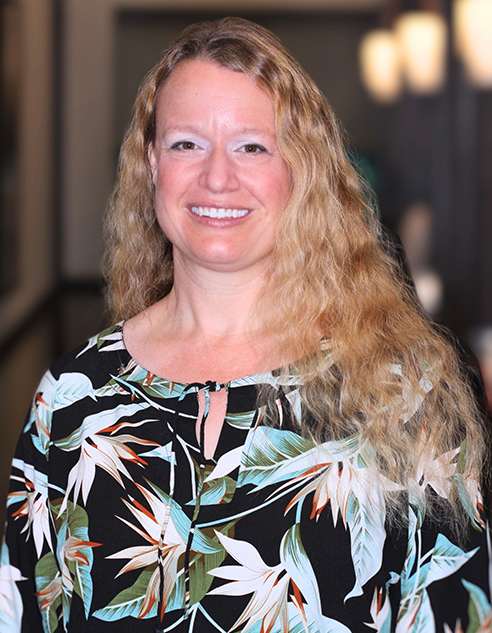 Julie brings decades of dental experience to Blue Back Dental. In fact, she's been part of the dental field since her early 20s! She thus knows how practices run and loves helping provide quality patient care.
Originally from Simsbury, Julie lives with her family of four and two Tibetan Spaniels. She often spends her off-hours playing the violin, hiking, and socializing with friends. Whatever the activity, her mission is to stay positively focused and meaningfully connected with others.
Laritza, Patient Coordinator
Laritza, a patient coordinator, along with her background as a certified dental assistant, knows her way around clinical and administrative tasks. More recently, her experience has expanded to include knowledge of insurance and treatment plans. She believes the best thing in her job is being able to help patients and interact with them.
While born in Cuba, Laritza moved to our state just before she started with Blue Back Dental. She has two terrific sons with her husband, an army veteran. When she's off the clock, she likes playing board games, watching movies, hiking, and hosting cookouts.
Brooke, Treatment Coordinator
Brooke is a valued member of our treatment coordinator team and is passionate about her role at the office. She always strives to help patients understand their treatment and to receive high-quality dental care.
Brooke has done a lot of traveling since she was little, so she herself doesn't know her "hometown." Still, she does have her companions – a 14-year-old Dachshund named Callie and a 5-year-old Great Pyrenees mix named Ellie! Many of her off-hours are spent with them, though she also makes time for traveling and concerts.
Melinda, Treatment Coordinator
Melinda enjoys her current role as treatment coordinator and previously worked as a dental assistant for ten years! Her prior dental experience (and education at Manchester Community College) have helped her care for patients quickly and effectively. You can thus count on her to help patients understand and plan for future treatments.
An East Hartford gal, Melinda is a proud mom to two sports-loving sons. That means she's always on her way to a game or a practice! When the dust settles, her hobbies revolve around party planning and fun summer activities.
Tatiana, Patient Coordinator
When you need help with appointments and scheduling, you can count on Tatiana to get the job done. As part of our dedicated staff, she's demonstrated skills in front desk work and dental assistant duties. Even better, she maintains a strong passion for the dental field. She values connecting with patients and helping them meet their needs.
Tatiana grew up in Springfield as part of a blended family. In concrete terms, that meant having five brothers, a dad who's a twin, and a mom with seven siblings! Of course, she loves them to bits and enjoys various hobbies – outdoor adventures, art museums, Marvel movies, etc.
Jenna, Patient Coordinator
Jenna excels as our office's patient coordinator. Her drive and interest as well as her education at the University of Connecticut inspire her efforts. She believes the best thing about Blue Back Dental is our focus on quality patient care!
As a native of Southington, Jenna has plenty to do when she's not working. Her hobbies span reading, movie-watching, and time with friends and family. Some of her pursuits are collegiate, too, as her previous background was in higher education.
Alessandro, Front Desk
Alessandro is a pre-dental student, and he loves getting firsthand exposure to the daily operations of a dental practice while also learning from dental professionals he admires and respects. They provide him with knowledge and insight he knows will serve him for the rest of his career.
Originally from Wethersfield, Alessandro says that he is blessed to have parents that pushed him to keep his grades up so he now has the opportunity to get into dental school. When he isn't working or studying, he likes to wakeboard, go to the beach, and pretty much do any activity that involves the water.
Dental Assistants
Kelsey, Clinical Manager
Kelsey is our tried-and-true clinical manager who manages the technology, equipment, and clinical care systems at Blue Back Dental. She started her dental journey in 2012 in the orthodontic field before pursuing assisting in general dentistry. That experience allowed her to gain knowledge to grow in the dental field to become our clinical manager. She takes pride in seeing patients leave our office having had a great experience and leaving with confident smiles!
Kelsey comes from a large family with 2 brothers and 2 sisters- fun fact she is an identical twin! She loves spending quality time with her family, friends and her dog Bodie! When outside of the office you may find her enjoying the outdoors – especially hiking and kayaking in the summer months.
Tracey, Dental Assistant
Tracey is an amazing dental assistant who has been with Blue Back Dental for well over a decade. She is certified through the Dental Assistants National Board (DANB). Her educational background has been reinforced over the years with many additional continuing education courses. Thanks to these efforts, she's able to delight in helping patients achieve their optimal oral health.
Raised in Rocky Hill, Tracey is married and has two beautiful daughters. She loves to cook, bake, read, take photos, and dance. Tracey also loves all things Disney, whether it's the movies, songs, or parks. We love Tracey for her dedication, work ethic, and stellar sense of humor.
Donna, Dental Assistant
Donna is one of our dedicated dental assistants, who has worked in dentistry for over 30 years! She is very skilled due to her time at Tunxis Community College and various continuing education courses through the years. As a result she gladly helps our doctors deliver excellent quality dentistry.
Donna is from Bristol, Connecticut, has two grown children and a devoted boyfriend. Outside the office, she loves to cook labor-intensive meals. You could also find her gardening, reading, or taking walks with her dog in the local area. As for something more strenuous, she often devotes herself to alpine sliding and zip-lining!
Bridget, Dental Assistant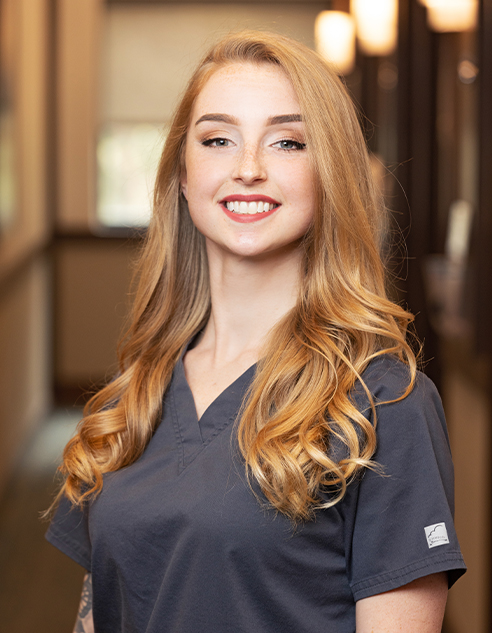 Bridget is yet another one of our terrific dental assistants here at Blue Back Dental. Thanks to her various continuing education courses, she's well-versed in general dentistry, radiology, and infection control. As such, she comes to work excited about the quality dental care that our team provides.
Bridget was born in Middlefield, Connecticut, in the village of Rockfall specifically. When she's not "on the clock," she'll often spend time with family, hike alongside her dogs, and camp. To really get to know her, bring up animal rescues – she has a special love for rescue dogs! Bridget provides thoughtful, thorough care for all of our Blue Back Dental patients.
Katiria, Dental Assistant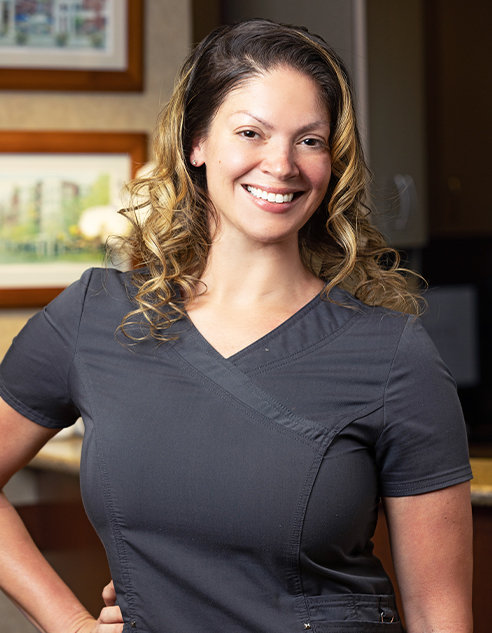 Katiria has worked as a dental assistant for nearly twenty years. That experience is evident in her skills, which were first honed by her education at Lincoln College of New England. In working at our office, she considers her teammates and patients the best part of her job.
From Meriden of New Haven County, Katiria is happy with her home life. She's a proud mom of three handsome military sons and loves doting on her granddaughter. Otherwise, she stays active through Zumba, boxing, and HIIT classes.
Cece, Dental Assistant
Cece is a fantastic dental assistant on our team. Once she finished her studies at the American Institute, she gained certification in dental assistance in only a year or so. She quite likes her current position, considering her fellow team members the best part of her job.
Cece has lived in Hartford for much of her life. In her downtime she's passionate about traveling and her family. One unique fact about her is that she rode horses for over seven years.
Kelsea, Dental Assistant
Kelsea is another valued team member of the Blue Back Dental team. She does excellent work as a dental assistant, thanks in no small part to her education at the American Institute. As for the best part of her job, she believes in helping patients have a comfortable and positive dental experience.
Kelsea is originally from Daytona Beach in Florida. That said, she has plenty of hobbies in our terrific state – arts and crafts, hiking, and more! Her spare time is also devoted to her two cats, both of whom she loves to spoil.
Christine, Dental Assistant
Christine, or Chrissy, is a certified dental assistant with over two decades of experience. Since graduating from the dental program at Tunxis Community College, she's taken various continuing education courses and earned several certifications. Consequently, her time with us has been joyful as she works with what she considers the best dental team.
Though raised in Newington, Chrissy and her husband live in nearby Berlin. When they aren't working, the two spend time with their puppies, host loved ones, and enjoy birdwatching in relaxation. Once upon a time, though, Christine sang in her church's choir and did so at the White House!
Irina, Dental Assistant
Irina is a great part of our dental assistant staff. She is dedicated to the field and is pursuing a career in dentistry! That said, what she loves most about her work is the on-the-job training. In her view, she's learned much from our practice's skilled professionals!
Having grown up in Granby, Irina truly considers Connecticut her home state. After all, the friends and family she loves are all here! Her personal and work experiences have inspired her to become a dentist.
Jessie, Dental Assistant
Coming Soon.
Dental Hygienists
Michele, Lead Dental Hygienist
Michele is our practice's lead dental hygienist for excellent reasons. For one thing, her time at our office is quite extensive – over thirty years! Furthermore, she graduated from the Westbrook College of Dental Medicine with certification in local anesthesia. Along with her continuing education courses, these traits allow her to do top-notch work for patients' smiles.
Since her childhood in Bristol, Michele has raised and enjoyed her wonderful family. That group includes her husband, Tom, and her four children – Leah, Luke, Lyle, and Lucy. When she gets time away from the office, she spends much of it with them.
Rachel, Dental Hygienist/Continuing Education Coordinator
In her time with us, Rachel has worked as a dental hygienist and our continuing education coordinator. She excels in both roles, having degrees in dental hygiene and Healthcare Administration. She's even served as the Connecticut Dental Hygienists Association secretary for multiple years. She excels at helping patients achieve the healthiest smile possible.
Born in Cheshire, Rachel now lives with her husband and two adorable dogs. She tends to rock climb, run trails, and garden in her spare time. That last activity is especially big, as Rachel has over forty houseplants!
Lucy, Dental Hygienist
Lucy has earned many accolades in dental school and has her degree and certifications in local anesthesia, CPR, AED, and first aid. Lucy also volunteers for Mission of Mercy and takes many continuing education classes. As a result, she's well-equipped to give patients the education she believes is crucial to oral health.
Connecticut-born and raised, Lucy lives with her husband and two sons. In her non-work hours, she likes to create art ranging from paintings and pottery to photographs. She also considers herself a music lover, having an eclectic palate that lets her enjoy many genres.
Renee, Dental Hygienist
Renee exudes a deep passion for dentistry and has both a dental degree and local anesthesia certification. Every day in our office, she loves getting to help people and make them feel confident in their smiles.
Renee lives locally with her husband Brandon, her son Beau, and a dog named Baloo. As for non-dental hobbies, she likes family time and touring the Connecticut wine trail. Staying active with frequent workouts is another passion.
Lindsey, Dental Hygienist
Lindsey is an experienced dental hygienist, and better yet, she also has a local anesthesia certification and a Bachelor of Science in Biology. She loves to make people feel great about their smiles.
A Farmington resident, Lindsey has a loving husband and three sweet sons. She deeply enjoys hiking and biking with them, running road races, and time at the beach. A fun fact about her is that she makes silly, dental-related social media videos with her colleagues!
Jenn, Dental Hygienist
Jenn is one of Blue Back Dental's top dental hygienists, having earned her dental degree from the University of Bridgeport. She's also a past recipient of the Colgate Star Award, which acknowledges students who've shown excellence in the oral hygiene profession. As always, her daily goal is to provide optimal and compassionate care to all her patients.
Today, Jenn resides in Naugatuck with her husband Steven, sons Nolan and Blake, cat Bella, and dog Arrow. Outside the office, she likes to spend time with family, garden, and practice yoga.
Ana, Dental Hygienist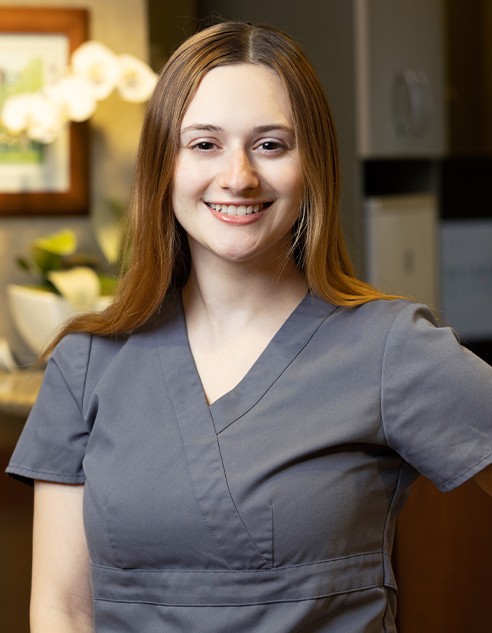 Ana earned her bachelor's degree at the University of New Haven, and she gained dental education with various groups. In particular, she studied at the Kois Center and provided free dental care to Arizona's Navajo. From there, she joined our practice.
Ana was born and raised right here in Connecticut. In terms of interests, she loves to go on adventures and travel. (Her current goal is to visit several national parks.) If she's not hiking with her dog Hocus, you'll likely find her at home with her cat Blueberry.
Melissa, Dental Hygienist
As a hygienist, Melissa loves getting to know her patients over time while also helping them feel good about their oral health and achieve their best smiles. She has her Associates in Dental Hygiene from Tunxis Community College and regularly keeps up to date with the latest continuing education courses. She's been working in this wonderful field for over a decade now!
Melissa and her husband Scott have known each other since high school, and they have a son named Tommy and an English Bulldog named Seamus. When she isn't busy caring for teeth, her favorite hobbies include hanging out with loved ones, going to Cape Cod in the summers, and visiting Connecticut's various vineyards and breweries. She also has a love of dancing, having practiced it for over 20 years at her grandmother's studio.
Joann, Dental Hygienist
Joann graduated with honors from Tunxis Community College with a degree in Dental Hygiene. During her time in school, she was able to intern at the Community Health Clinic of New London as well as volunteer at different vaccination sites during the COVID-19 quarantine. Today, she is certified in local anesthesia and currently working on acquiring more CE credits that will help her further her knowledge so she can better help her patients.
Joann was raised in Puerto Rico by her mom who ended up being the first person in her family to go to college, and her dedication to being independent and improving herself was a big influence. Her mom and stepdad met and college, and because he was in the army, Joann and her two sisters moved around a lot when they were young. Today, she loves to dance, ride her road bike, do karaoke, and spend time with her closest friends watching K-dramas.
Samantha, Dental Hygienist
Bio Coming Soon!
Julia, Dental Hygienist
Julia has a master's degree in health sciences and certifications in local anesthesia and CPR. Plus, her amazing team motivates her to work hard for patients' oral health.
Julia is a Connecticut native, counting Waterbury as her hometown. Meanwhile, her family includes herself and her children – Lillian, Brady, and Leah. Besides chatting with loved ones, she likes hiking, traveling, and reading as hobbies.